As a wholesale company, we don't mark prices of items on our site.
If you interested any of our products, please send your order by email Fashionkey@hotmail.com then we will check the stock, and send a confirmation order to you at first time.

Choose detail product which you plan to purchase from our factory links,when you can't find the products from our website,you can send us products images to check,if we check it in stock we will contact you and make sure order until complete your order.
Products Include (Id number or photo links)+ size info + Shpping Address
For example:
Shipping address: California, USA, xxxx...
http://www.xxxxxx.xxx/productinfoen_1656466.html 2 Items size M and XL
http://www.xxxxxx.xxx/productinfoen_1834190.html 2 Items size 43 and 45
We will check our stock,and send a confirmation price list to you at first time,For example we will send you by Excell or PDF File: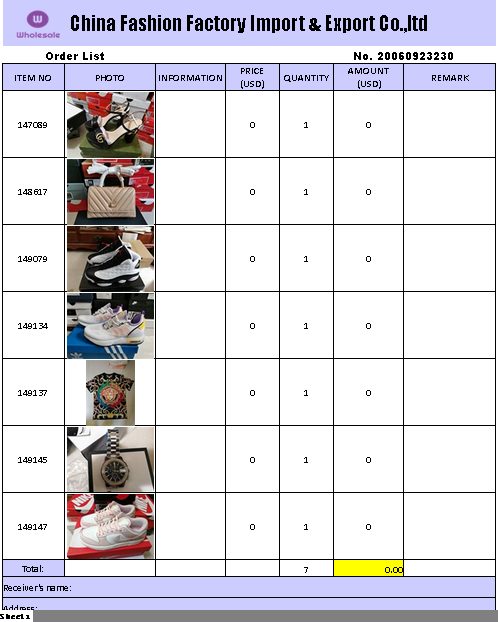 You check the order status .
We will prepare your order after we have got your payment.and delivery package by EMS/DHL/TNT/UPS/FEDEX/CHINA POST/ in time.
We will email tracking number to you,our worker will keep track package for you.